By Steve Litt, cleveland.com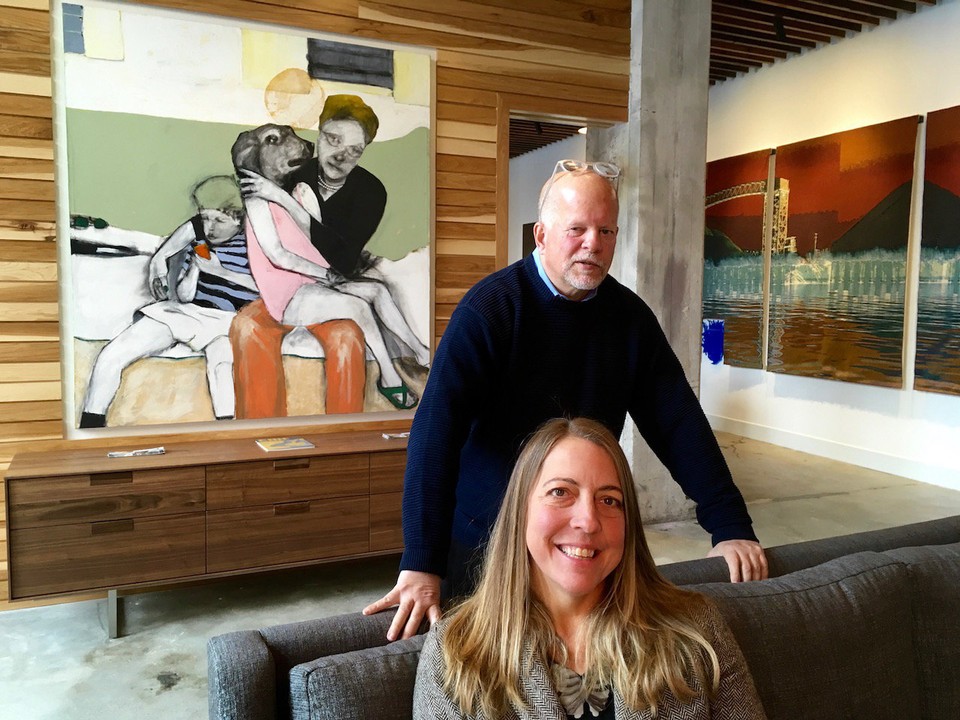 CLEVELAND, Ohio - The real estate developer and the arts leader both wanted to buy the same picture at the opening of a show at Zygote Press in November 2016. But the arts leader nailed the opportunity, placing a red dot sticker next to the picture's label before the developer could, indicating it had been sold.
Instead of ending badly, the polite tussle over an artwork led to an unusual partnership between the developer, Neil Viny, president of Independence-based Dalad Group, and Liz Maugans, the outgoing director of Zygote, the nonprofit printmaking center at 1410 East 30th St. in Cleveland.
Viny invited Maugans to curate an art collection for Dalad Group's $32 million renovation of the 200,000-square-foot Worthington Yards complex as a 98-unit apartment project in Cleveland's Warehouse District that is now complete.
In a nice touch, the artwork Viny and Maugans both wanted to buy that night at Zygote - a hand-colored screen print on handmade paper by Russian-born Cleveland artist Anna Tararova - is now part of the new collection.
"It was an absolutely fortuitous meeting," Viny said, describing his 2016 encounter with Maugans at Zygote.
New role for Maugans
In addition to the Worthington collection, Maugans, who officially left Zygote Friday after 11-plus years as director, also agreed to curate a new gallery located in the lobby spaces of the complex.
The gallery and tours of the Worthington collection will be available by appointment through Maugans, who can be reached through the Yards Projects website.
Maugans will also organize social and cultural events designed to build community, raise awareness of Cleveland's art scene, and, hopefully to encourage collecting of work by local artists.
The first event, part of a series called "Art Ventures, which will involve studio visits with Cleveland artists and tours of local art venues, will be Sat. Jan. 27 from 10 a.m. to noon.
First look
More than 400 Clevelanders got a first look at the Viny-Maugans project Thursday evening during the inaugural opening of the Yards Projects gallery, 725 Johnson Court, the one-way service alley that runs between West 6th and West 9th Streets. "All went as planned," Maugans said Friday in an email.
The gallery isn't the easiest place to find, but, as Viny said: "Think of how many places in Cleveland that take a little bit of work to initially find."
The opening show features works by the 32 artists represented in the Worthington Yards collection, which Viny and Maugans described as the largest new installation of work by Cleveland-based artists in a single building since the opening of the renovated Westin Hotel in 2014, which featured 1,500 works in a collection coordinated by LAND Studio.
Zygote Press and Maugans provided LAND Studio with connections to many of the artists in the Westin project, which caught the eye of Viny, a collector of Cleveland-based art himself.
Branding apartments with art
It got him thinking about how he could use art to brand Worthington Yards, which he described as something of a final frontier for the Warehouse District.
"To me, if I walked into this building and I saw all this art in the corridor, I would think this is a special place; this is a place I want to be," Viny said Monday in an interview.
The project encompasses four adjoined buildings and a fraction of a fifth that had been vacant for 30 years as the last non-renovated portion of the Warehouse District.
Dalad and other developers have been involved in the district for decades, reclaiming handsome, solidly built 19th- and early 20th-century warehouses and factories as loft apartments that have helped spark a residential boom downtown. The Worthington project, now 70 percent leased after receiving a partial occupancy permit in October, includes 63 one bedroom units, 33 two bedroom units and two three bedroom units.
Rents and design features
Rents for the one-bedroom units, which range from 710 to 1,120 square feet, range from $1,200 to $1,500. The two bedrooms, which range from 1,100 to 1,420 square feet, average $1,900 to $2,000, Viny said.
Attractively designed by Cleveland architect William Ragaller, the apartments feature large windows, many of them punched through previously solid brick facades. Many units also feature balconies overlooking the two interior courtyards from which Worthington Yards takes its name.
A fitness center occupies a bridge over Johnson Court that used to connect one part of the Worthington complex to another.
Maugans and Viny sprinkled 88 artworks throughout the project, some of them large and commissioned specifically to fill certain spaces on the ground floor of the five-story complex.
Tough and tender
The installations at elevator landings and within apartment hallways are surprising in that some address controversial issues of race and identity.
Some are also physically delicate, which is also surprising. Viny expressed confidence that his tenants, a racially mixed population of millennials, baby boomers and young families, would treat the objects with respect.
Among the tender-looking pieces is "Insufficient Ink," an installation by Cleveland artist Amber Ford comprised of a dozen printed mug shot-style portraits of an unidentified young black man whose image becomes faded and fragmented in successive printings.
The work is intended as a critique of stereotypical portrayals of young black males in news media, Viny said.
Each print hangs loosely from tacks fixed to a board in a hallway. They flutter as you walk past. Viny said he'd obtain replacements if any of the sheets become damaged.
Trusting tone
The tone of trust embodied by this and other artworks extends to the circuitous ground floor spaces of the Worthington complex, where display areas pinwheel in various directions from the 900-square-foot Yards Projects gallery that Maugans will manage.
On view are large paintings by Cleveland Arts Prize winner Douglas Max Utter, and a mixed media mural by Michael Loderstedt, a professor emeritus of printmaking at Kent State University, that explores the impact of industry and environmental stress on the Great Lakes.
Utter, Loderstedt, Tararova and others are among the artists represented in the Yards Project show that opened Thursday, along with Don Harvey, Michelle Murphy, Barry Underwood, Royden Watson, the late John Jackson, Eric Rippert, Darius Steward, Lauren Yeager, Charles Mintz, Garie Waltzer, and Maugans herself.
Maugans said the gallery would coordinate future openings and "Art Bar" happy hour events to coincide with those of other spaces in the Warehouse District, including Harris Stanton Gallery, at 1370 W. 9th St., and Shaheen Modern and Contemporary Art, 740 W. Superior Ave. For Maugans, the Worthington Yards project is part of what she sees as a maturation of Cleveland's art scene, and a time of new possibilities as new talents emerge.
"I feel we're at a beautiful advantageous moment," she said.