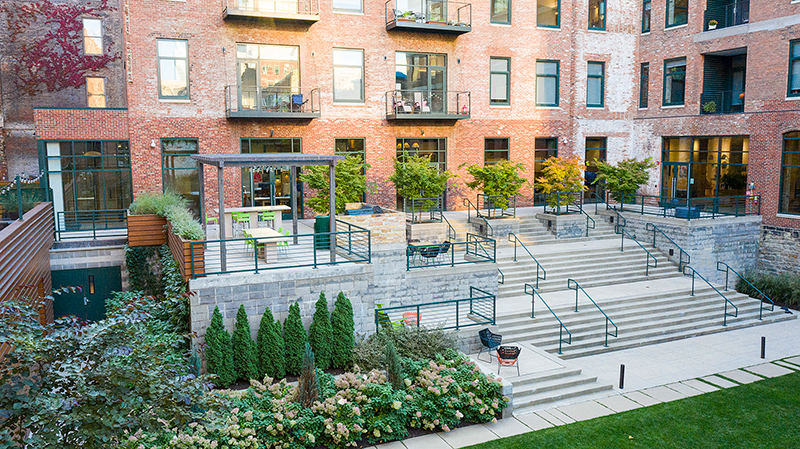 George Wortington Co. was Cleveland's longest-running business with 162 years in the hardware trade, first in retail, then, by 1920, wholesale exclusively. The company left its downtown headquarters in 1984, relocating to Mentor and ultimately going out of business in 1991.
Several of its original warehouse structures remain. in the 1980s, Dalad Group acquired four of them. Until now, they have essentially sat vacant.
Worthington Warehouse Nos. 3, 5, 6 and 9, each built between 1906 and 1937, comprise the new Worthington Yards apartments, a renovation designed by KA Architects with lead architect Bill Ragaller.
Situated on Johnson Court, the one-way street that bisects the block between Lakeside and St. Clair avenues, the combined buildings house 98 luxury rental units and boast downtown's only two residential courtyards, as well as a gym, yoga studio, roof deck, dog spa, headed garage and community living room.
The bones of the original buildings were good, enabling the preservation of the five-floor structure.
Worthington Yards was a beneficiary of the Ohio History Preservation Tax Credits. "We applied for credit allocation, scored highest in Northeast Ohio in our round, second-highest in the state, and were awarded a full credit allocation," says Neil Viny, president of Dalad Group.
While the design of each unit is tricked out for modern living with high-efficiency heat pump A/C systems and kitchen appliances, Soffit lighting, stainless exhause hoods, quartz countertops and other trimmings, the project respects the site's history. Whether it's an exposed brick wall, columns or high ceilings with exposed beams, each apartment has features that nod to the building's past.
Worthington Yards aprtments are one-, two- or three-bedroom units, starting from $1,250/month and capping at just under $2,950/month, with square footage ranging from 711 to just more than 2,000.